Cathedral, The Game of the Mediaeval City
WELCOME to the official website of CATHEDRAL The game of the Mediaeval City.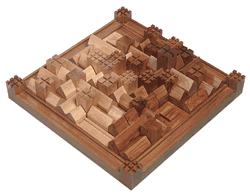 CATHEDRAL is a two player strategy board game based around a battle for supremacy between two political factions (dark and light) within the walls of a Mediaeval City. Ancient cities were confined by walls for protection against enemies but as the population grew the limited space caused competition of another kind. This game represents that competition for living space within the city wall.
Enjoy your visit with us. There is information about the rules, places to buy and how to play with friends over the internet.
For distribution inquiries woldwide contact Family Games America.
Only the genuine article bears the name "Cathedraltm the Game of the Mediaeval City".
And is manufactured and distributed by Family Games America.
---
"
The Game of the Mediaeval City"
Is property of and copyright © 1978, 1997 Chrisbo I.P. Holdings limited.
The intellectual rights in all parts, name, design and rules is protected by International copyright treaties. No parts may be copied or reproduced in any materials including electronic, multimedia and internet, without the express permission of the owner.